From down right dirty to sparkling clean in one easy cycle
In this Data Quality Case Story article we share some of the thoughts and quotes from an Australian client. A Salesforce client, who no longer trusted their data.
Watch the video on youtube to see how we cleaned 700K records in less than 72 hours.
Discovering bad data
Having taken over our SalesForce.org I needed to find an app that would help us lift the very low quality of our data. It had taken years of abuse – missing country, no state, badly formatted this and that, lack of job functions etc.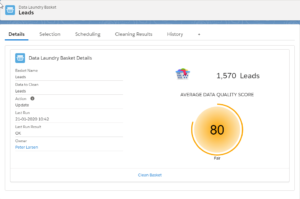 Whether you are taking over an existing database, or engaged in building a new database, the challenge remains the same:

How do you:
Determine what it wrong?
Define what is important?
Create a plan to go through it all?
By using data quality metrics, you will get a reference – a measure of your current data quality. It also becomes a guide to how your improvements can affect these measures. Making sure that you keep focus on driving the Data Quality Scores higher.
Focusing your efforts where it matters the most
When I found DataTrim's Data Laundry App, I was able to quickly identify areas of greatest need for cleaning. Areas where we could gain the quickest and biggest wins.
Cleaning data from A-Z can be a tremendous job, and once finished you can start all over because data have been added, changed, removed.
FOCUS, FOCUS, FOCUS
Identify where the pain is greatest, and start there.
Make sure that You provide the business with business-critical data of high quality for their processes, and then work your way outwards
Data Quality improvements – fast please!
The thing that impressed me the most was the speed at which the App processed our data. We have an extensive data base and yet the App was able to process and correct a lot of the issues in a VERY short space of time.
Once you have identified your Data Quality Issues, identify steps to automate correction and validation of data. Only this way can you keep up with a dynamic database where data are being added and changed every day.
Data Quality assessment for each record helps illustrate that the Data Quality is being monitored. This provides confidence to the end-user as they visually can see that initiatives are in place to monitor and improve their data.
Global Data Cleaning for Global Data Quality
I also like the fact that this app is not restricted to the USA and is able to process and validate data on an international basis.
The majority of salesforce's clients are US based, with customers in the US only. The majority of "standard" functionality is historically centred around the US.
For the US, you can relatively easily validate e.g. a Zip code, but when your database includes data from outside the US it suddenly becomes more complex.
Postcodes in the UK and Canada are not so easy to validate.
Country names and cities, written in other languages (Copenhagen, København, Copenhague etc.) will not easily fit into a Standard picklist either.
The thought of having to maintain such lists should keep most from trying to build this themselves, but instead start looking for an out-of-the-box solution.
Try out DataTrim's Data Laundry
The DataTrim Data Laundry App, is a well proven app which our consultants and clients has used to clean up Global data -since 2007.
The App is now awailable in Salesforce Lightning.
With the new App, the functionality is now easily available to everyone who want to get more out of the existing data. Improve their data quality and create their owen Data Quality Success Case Story.
If you want to lift the quality of your data, fill in the gaps and generally improve your data hygiene I HIGHLY recommend you to use DataTrim's Data Laundry.
Learn More
Contact Us
Please do not hesitate to reach out to us.
We are happy to discuss your needs, and see how our solution can address YOUR challenges.