Merging has never been simpler, and yet so featureful
With the DataTrim Merge Wizard, you have now access to the ultimate Merge tool, whether you get to the merging process from reviewing the duplicates in the Matched Records tab, or whether you want to merge 2 duplicates, popping up in one of your list views: List View Merge Buttons
Select values using check boxes
Edit the records using Inline-editing
Show only fields where the 2 records have different values
Guides you to pick the right Master records when you are merging portal users
Allows you to link accounts as Parent and Child instead of Merging
Support the time-saving False Dupe feature.
Places the read-only fields at the bottom
etc.
Select values using check boxes
Normally when merging records, the values from the record you select as the Master take priority during the merge.
This is often what you want but sometimes you want to keep the email from the dupe, using the check boxes you now get what you want.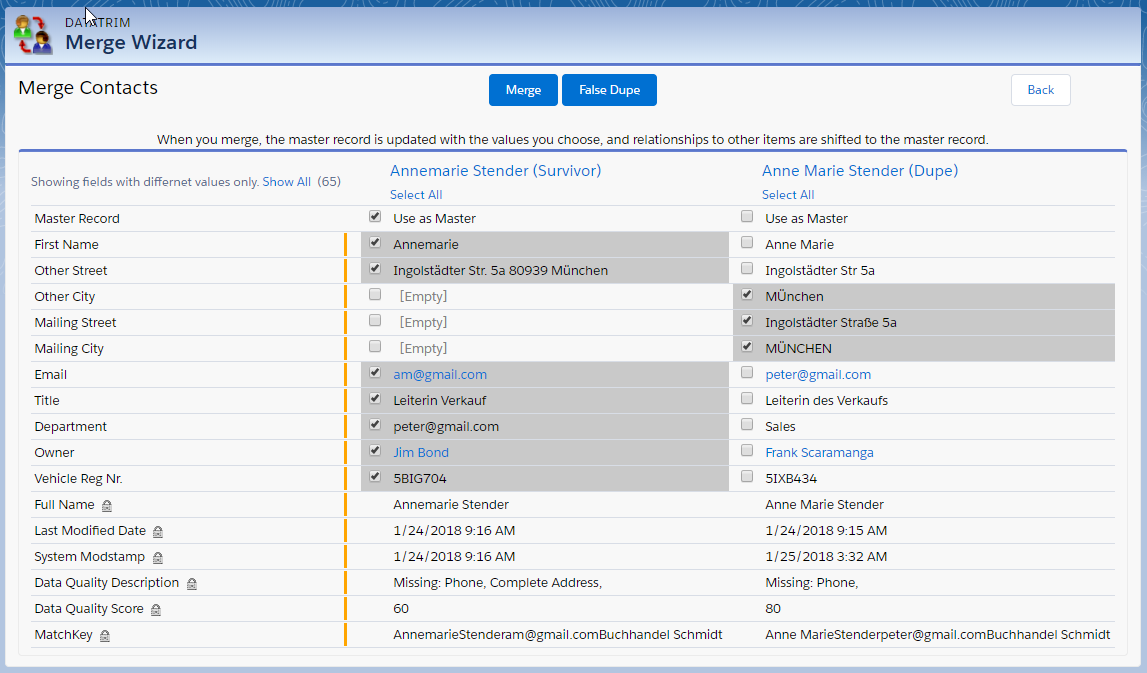 Edit the records using Inline-editing
Have you ever experienced that you detect an error on the record while merging, and want to correct it right away, or even keep the alternative email from the dupe, right? This is now possible, by simply copy/paste or manual edit prior to the merge.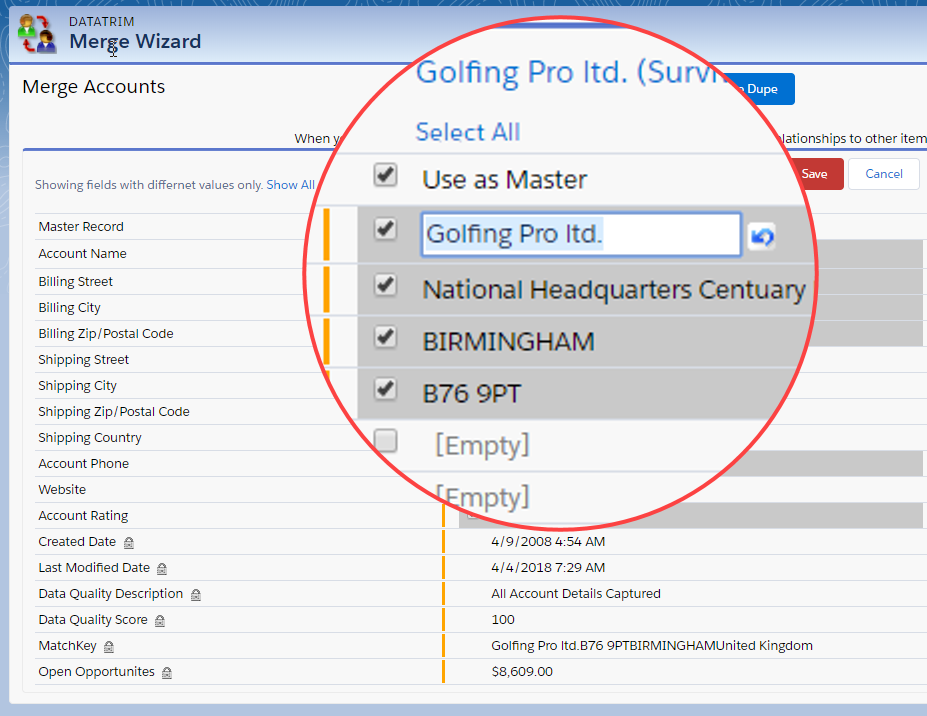 Merging Portal Users
Merging contacts which also are Portal users (community) can cause a big headache.
If you accidently or deliberately choose the portal user as the Dupe, i.e. the contact which after the merge is deleted, you will also disable the portal user. And there is currently no way to relink the portal user with the surviving contact..
So when merging it is important to be aware of this and make the merge decision upon facts.
The DataTrim Merge Wizard will indicate to you if a contact is a portal user or not.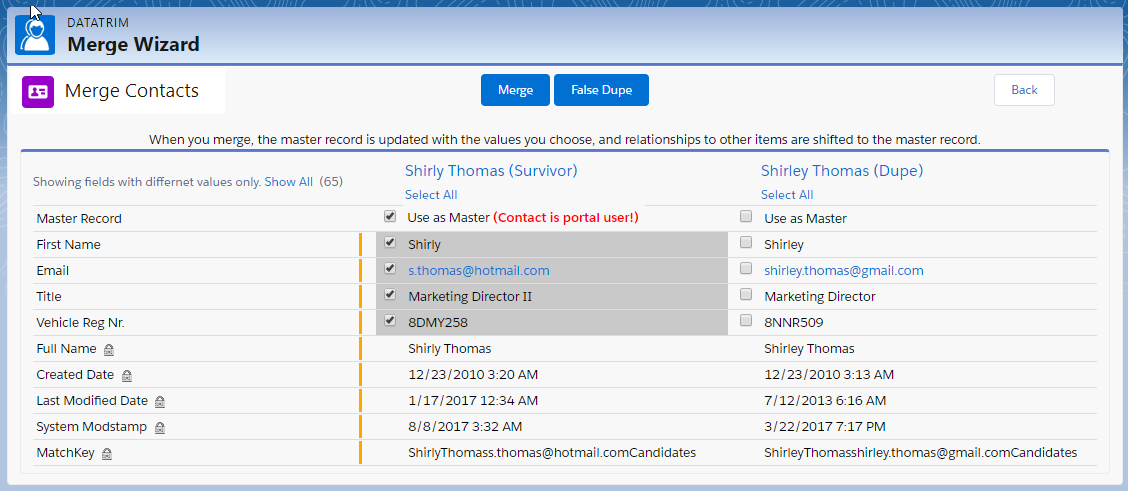 In fact the merge is aborted if you try to merge the records, and chose the non-portal user as your master:


-And it integrates of cause into the DataTrim Review Wizard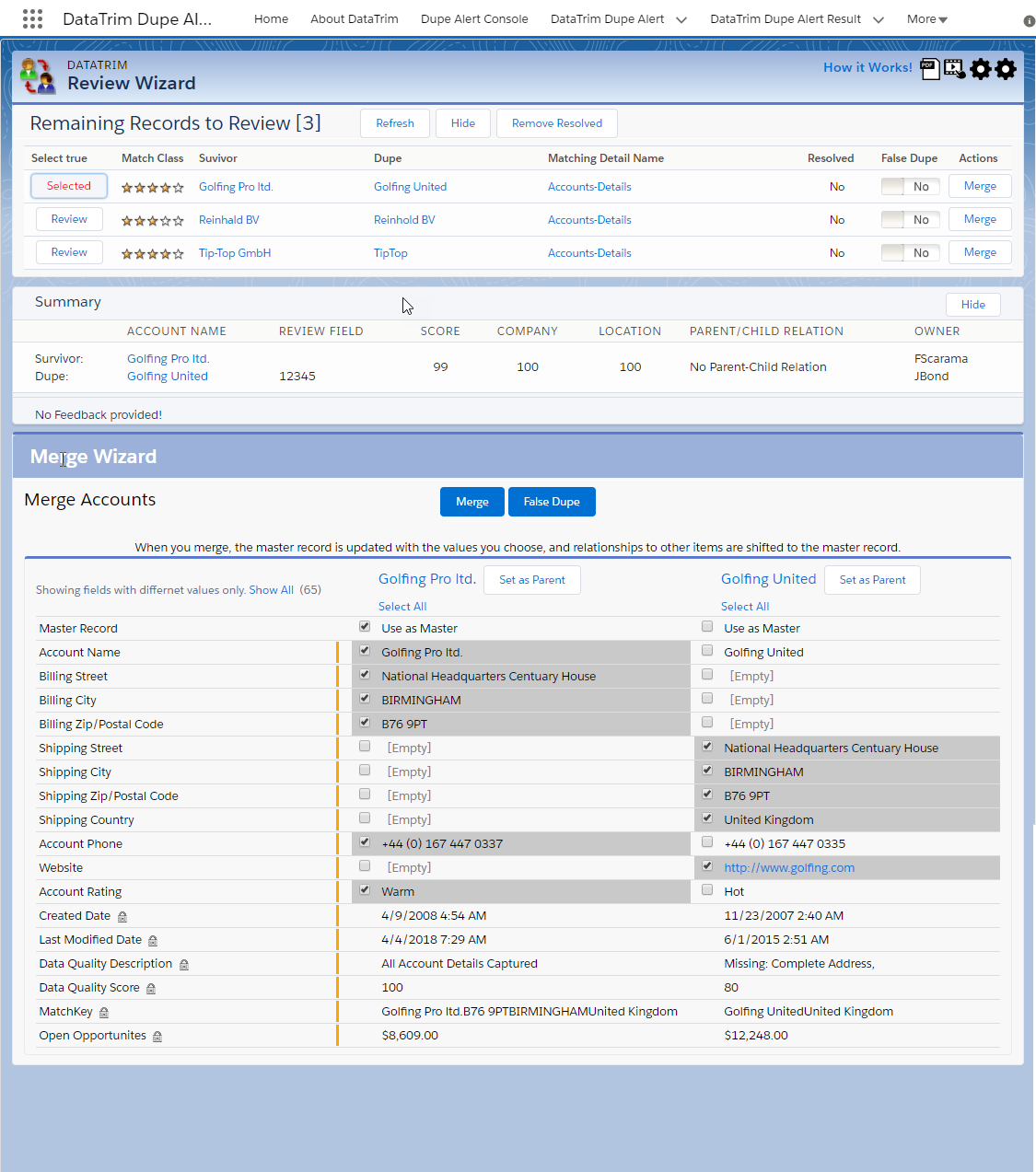 Get it today
You can upgrade your existing DataTrim Dupe Alerts app to the most recent directly from the AppExchange:
DataTrim Dupe Alerts on the AppExchange
The upgrade is Free, and is part of your subscription like all other updates we apply to our packages.
How to set it up?
Once you have upgraded to the most recent package version, you will have to make the new Merge Wizard your Default Merge Wizard.
From the Dupe Alert Console tab, go into setup, and then Default Merge Wizard.
Here you simply select the Merge Wizard as default, and you are all set.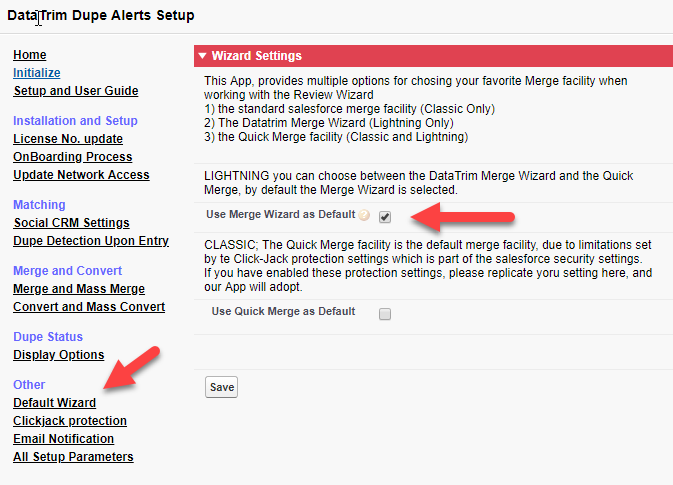 Don't hesitate to reach out to our support team if you run into any questions.
Contact Support