Data Quality for Salesforce™
Data Quality fofr Salesforce™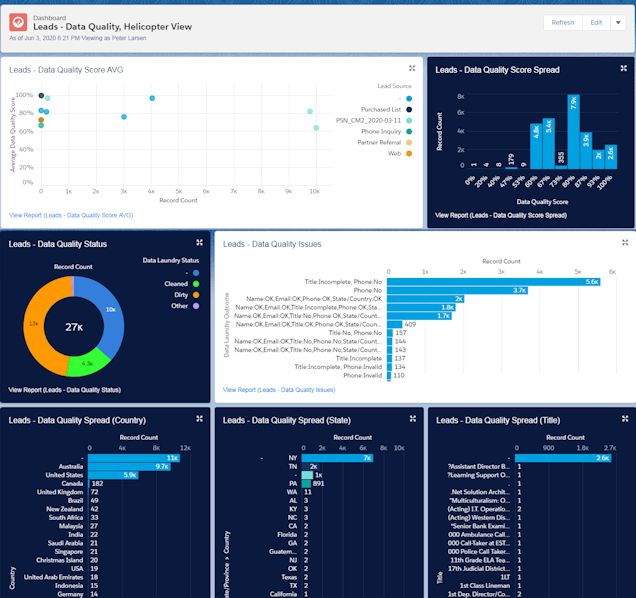 | | |
| --- | --- |
| | A Data Quality Assesment and Automated Data Cleaning solution for Salesforce™ |

By being able to measure Data Quality, you can more easily set out a direction for where you want to go with your Data Quality initiative.
With Data Quality Indicators, Scores, Dashboards and reports you will be able to analyse your data and put your effort into the cleaning jobs that have largest impact on your business-critical processes.
Cleaning data is often cumbersome and the devil is in the detail. The Data Laundry performs automated data cleaning, standardization and normalization of your Lead, Account and contact records.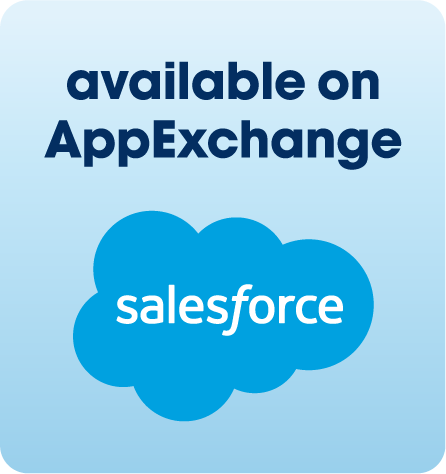 Indicating what is good and what is still Dirty.
Take your data to the Data Laundry and put an end to Dirty Data.

4 STEPS TO BETTER DATA QUALITY
Episode 1
Understanding
Data Quality
Episode 2
Assessing
Data Quality
Episode 3
Improving
Data Quality
Episode 4
Build a Data
Management Plan
Data Quality for Salesforce?
It's not a one-button thing, right?
Lets talk and see if and how our approach will help you.
Want to know more about Data Quality for Salesforce?
Data Quality for Salesforce – Screenshots
Data Laundry Console
Assess your Data Quality in a single view
One overview page to manage your Data Quality initiative
Manage Laundry Baskets, and their results
Data Quality Indicators
Data Quality Indicator indicates Data Quality Status and potential issues record by record
Available on Detail View as well as on List Views
Filterable and Available for Reporting
Data Laundry Baskets
Segment your data into separate Laundry Baskets
Average Score for Laundry Basket Content, for comparison across segments
3 actions available: Clean, Validate or Review
Automated Cleaning
Process the Laundry Baskets in Batch mode
Use Scheduling to process Laundry Baskets on e.g. a daily basis
Standardize and Normalize
Improves your segmentation and geo-location functions
Facilitates reliable Lead/Account assignments or Sales/Opportunity rollup by geography
Clean and Detect Dirty Data
Updates Leads, Accounts and Contacts with world-wide cleaning algorithms
Identification of Dirty and Bad Data
Validate existing data for data quality analytics
Map Job Title to Job Function and Job Role
Stop selecting your campaign targets by filtering on Business Card Titles
The Data Laundry converts Business Card Titles into pick list values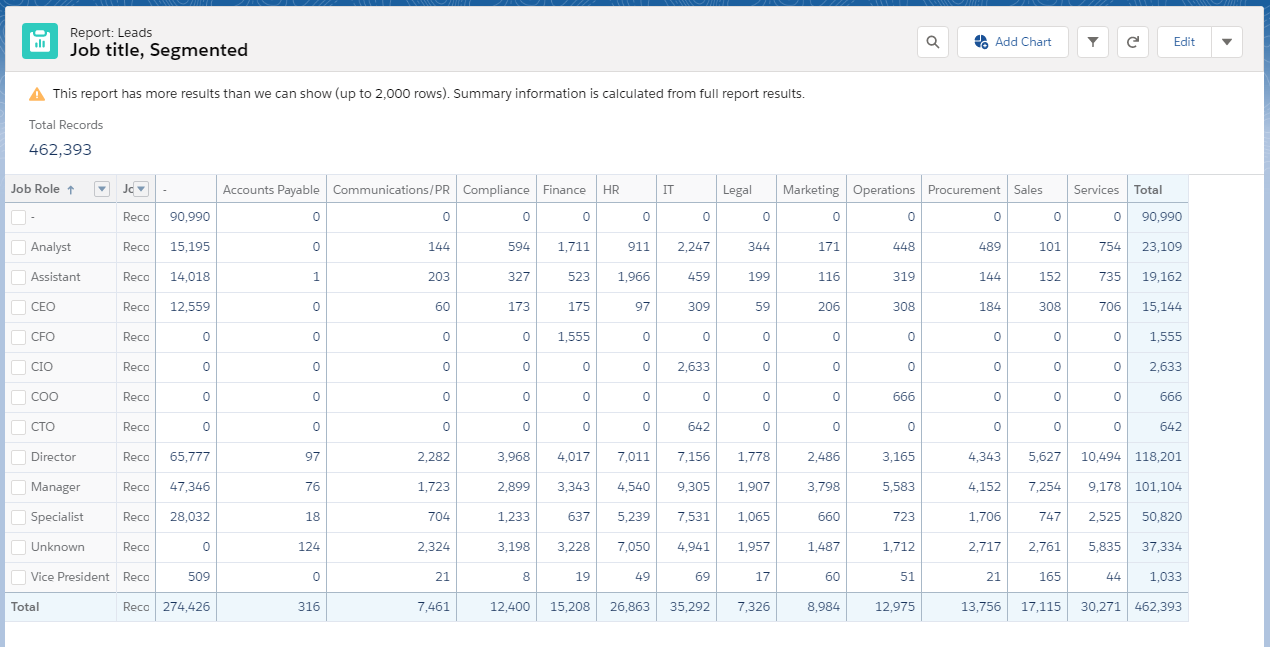 Job Titles, Segmented
Segment and report your marketing impact on standardized values
Excel Review
Review your data in Excel (.csv file)
Quality Indicators will tell what is wrong and support an efficient cleanup
Let's Get Started
Don't hesitate to contact us with any questions which you may have
Let's Get Started
Don't hesitate to contact us with any questions which you may have