By displaying Opportunities and Contacts in an Account Hierarchy structure, it becomes easier to see where the Opportunities are linked, and where the contacts who are influencers or decision makers are located.
Opportunities by hierarchy
Getting and overview of opportunities within an account hierarchy is critical to perform an optimal management of the account. A logical overview helps a discovery of the business opportunities which may be hidden therein
With the DataTrim Account Organizer you can now see the Opportunities across your account hierarchy. It displays to which account they are associated, and therefor where you may need to focus your attention in the coming weeks.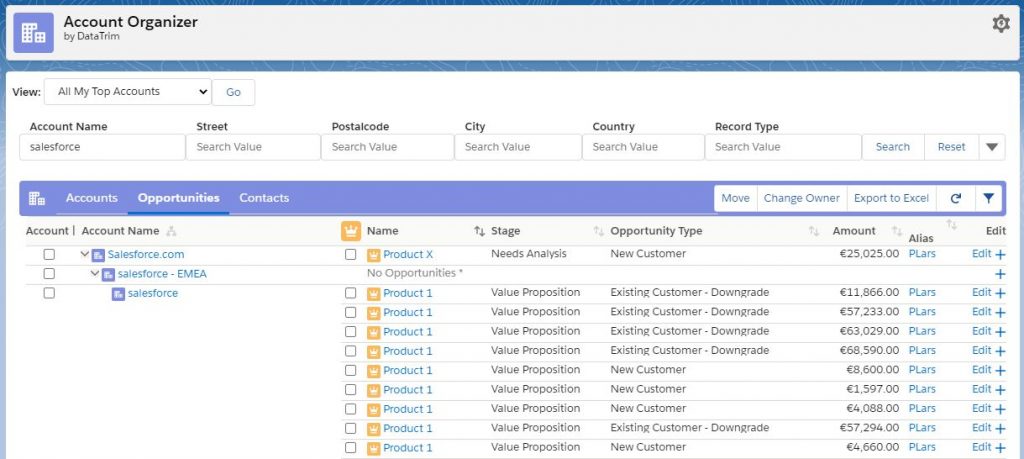 You can, from a single view, create new opportunities, edit and move existing opportunities, change ownership etc.
Contacts by hierarchy
But opportunities don't close by themselves, -unfortunately 😉.
Contacts within the account needs to be nurtured in order to make them commit and accept your proposition. With the contacts being listed in a hierarchical view, you can see who makes decisions at which levels.
Now you know where to make your next pitch..
Adding Job Role and Job Function as picklists will enable you to better target the contacts within your accounts. Different job roles should receive different messages and attention, but the business card title alone may not be easy to use for targeting.
Business card titles often are free text, and possible in different languages. Mapping the business card title into a Role and Function makes segmentation so much easier.
Contact us for more information or check out our DataTrim Data Laundry App for more details.
Filtering Opportunities and Contacts in an Account Hierarchy
You may want to limit the Accounts being displayed in an account hierarchy. Filtering by record type, geographical region, status etc. This will help you focus on the relevant part of your account data.
But – there is more – you can also apply filters to the Opportunities and Contacts.
By default, the opportunities displayed are the Open Opportunities only. The App includes features where you can apply select filters to only display specific records and not All records. For opportunities this may be obvious. But for contacts you may only want to display active contacts, and hide contacts who has left the company or opted out of email etc.
To learn more about the Filter functions of the Account Organizer continue reading here
Learn More about DataTrim Account Organizer
DataTrim Account Organizer, Introduction (Video)
Searching and Filtering in the Account Hierarchy
Your Top-Level Accounts in one single view

Get It Now
Book a Demo
How it Works (video)
Contact Us for more information about this solution