Caring about your data is like caring about your children, nurture it, give it your attention, and fill in the gaps to make the road ahead less bumpy and to give them the chance to be successful.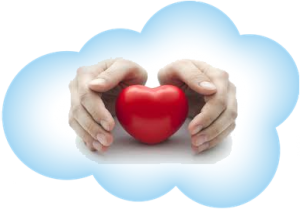 It is not automation and auto-pilot, same goes with your data.
B2B data decays at 35-40% a year (Source D&B)
Gartner estimates that, more than 25% of critical data in Fortune 1,000 companies will continue to be flawed — i.e. the information will be inaccurate, incomplete or duplicated.
Multi-channel marketing operations largest challenge is to consolidate data consistently.
If you plan on automating your marketing or sales efforts, here are a few things to consider
Marketing Automation = Multi-channel messaging, and responses.
With the growing focus on Marketing Automation and the success of companies like ExactTarget, Eloqua, Marketo, Hubspot etc. the need to care about your data is more important than ever.
Although a response from a target lead, by a click on a link or a button, may give you important information about the behavior of that individual, the actions taken by people receiving emails are not always predictable and associable with the original action. An email can be forwarded, an interest can be transferred verbally to someone else, and the response you get from your campaign may be indirect, like a phone call or an enquiry from someone with a different email address.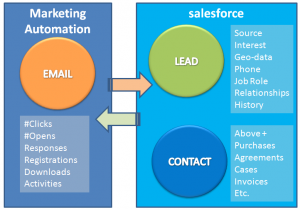 So while these marketing automation solutions are email-centric, true customer care and lead nurturing is about people communicating with people. And this is where salesforce distinguishes itself from the pure marketing automation solutions. In salesforce you capture the history, the purchases, the downloads, the cases, the calls, all the interactions over the life-cycle of a lead turning into a client (contact) and becoming a new lead for a cross-sell or up-sell opportunity etc.
The customer journey has a start and an end, and during this journey the variety of channels used for communication provide openings for capturing new leads (referrals), and additional complementary and updated data for existing leads and clients (contacts).
At the beginning the new lead needs to be assessed: do we already know this person? Do we already have him somewhere even with another email address?
At each interaction, each data element collected you must decide if the information received is more accurate, complete than what you already have, or consider if the information is redundant (duplicate).
To avoid wasting time and effort this check needs to be done as early as possible, so that the first greeting can be as appropriate as possible.
Make your customer feel special
We all know the feeling of retuning to a shop where the salesrepresentative greets you by name, and recognizes what your favorite color is, and what disappointment you feel, when after shopping at the same shop for years you suddenly get at cold: "can I help you?"-greeting
So you need to recognize your leads by more than just their email, and this is where deduplication comes into play. Being able to dedupe and merge duplicates records together after a big migration project in order to create the first global view of your historical interactions with a lead/client is not the only place where deduplication is useful.
With the multitude on entry points on your salesforce environment at multi-channel communication, you will need to link an incoming enquiry to the existing record in your system, and this is also deduplication. But data from various sources are very often entered with different level of Completeness, Consistency and Reliability. E.g. To register for a webinar you often collect little data except for an email, but for a purchase you typically get more information, including an address, but this address may not be the physical address of the individual but the address of his financial team. The ability to match and link all of these different information elements together in order to build the 360 view on a client requires a more sophisticated approach than what most Marketing Automation solutions provide.
Deduplication, Matching, Linking = the way to bring it all together
Let us be frank, deduplication is not a accurate science, there are grey areas and when you look at solutions you typically will find 2 approaches:
 Solutions where you build rules, and if 2 records fulfills one or more rules it is a match, and
Solutions which based on best practices will present potential duplicates to you, for you to verify and confirm.
The first solution will typically give you fewer duplicates, and the limitation is based on your capability to create sufficiently sophisticated rules. If you don't have a rule, it is not a dupe. The second solution will have a tendency to present more dupes (potential) than what you actually have. But by applying a pragmatic  80-20 rule you will quickly get the same duplicates as in solution 1, but you now have an additional set of potential duplicates to review and catch the duplicates which doesn't fall into the common pattern.
Furthermore if the solution provides the end users with an option to review and validate the data prior to or after the merge, then such collaborative approach will at the end facilitate more accurate, complete and trustworthy data, even if the validation of the data sometimes has to be done by actually contacting the client for verification.
Know when to Stop
With B2B data decaying with a rage of 30-40% per year (depending on industries and geographies), most data will be obsolete after 3 years. So if your leads don't make any type of response over a longer period, he or she is either not interested, or he/she has already left for another position, face it.
Take a quick look at your database, which part of it are you actively using, and which records have not been 'active' for more than 18 or 36 months?
Marketing Automation is not just about doing more with less effort, but doing things more intelligently, and if you can double your response rates simply by excluding 'aging' records, then you already have an argument to invest time and money to care about the important parts of your database.
Contact Us for more information
DataTrim helps companies and organizations worldwide in improving and maintaining a high level of Data Quality.
DataTrim improve the reliability completeness and consistency by applying a set of data cleaning treatments which is called The Data Laundry.
The Data Laundry solutions and services adds experience based data cleaning processes to lead management, marketing automation, customer support and account management processes in salesforce and created direct impact on the day-to-day usage and productivity in a simple-to-use, collaborative and cost effective way.