Certain industries like Medical Devices are often challenged with a global database, and the management of the data becomes a choice between a centralized model and a team of distributed members where each member manages their local part of the data.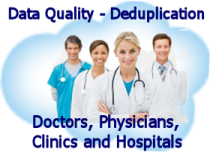 These Data Stewards are challenged with 2 main issues:
1) How to ensure that each country is provided with useable data based on local requirements
2) How to ensure a consistent data model which allows sales and marketing activities to be consolidated and compared at a global level.
Setting standards
Each country has their own characteristics (rules), for e.g. how address data is organized, phone numbers are formatted etc. For a better adoption of a global CRM system like salesforce.com, these rules must be respected, and you must ensure that the data quality measurement you put in place not just validates if a field is populated or not, but whether each records is usable for mailing, phoning and email campaigns.
Campaigning
Sales and marketing initiatives are in addition to the 3 key elements: mail-able, phone-able, email-able, dependent on the segmentation data, the type and size of the organization, the interest the prospect is showing, the courses, the trials for which the client has registered, previous purchases, and for people like doctors and physicians who may work at different sites, clinics, hospitals etc., the relationship between these sites and other customers and prospects who also frequent these sites.
Being able to perform thorough deduplications to e.g. link new registrations on your website as new or existing contacts, and add the new Trial requests to the existing contact is critical for sales and marketing to effectively identify the sales opportunities and at the same time provide the sales rep. with as much information as possible to close the deal.
Taken into consideration that one doctor/physician may both work at a clinic, but also be associated with a number of local hospitals, makes the relational overview complex, but also more interesting as a happy client who works at different sites can be a good reference to get more business from other clients who works at the same sites.
And although the capability to present these potential duplicates to an admin in a central data management organization gives an effective way of processing the data in volumes, the ability to collaborate and make the information available to the end-user, for him/her to make the detailed decision may be a better choice, and make the usage of your CRM solution more dynamic, more engaging and more valuable for each of your end users.
Summary
DataTrim has years of experience in processing global CRM data, and is providing a suite of solutions for salesforce.com clients which facilitates global data standardization and normalization, deduplication and account hierarchy management, all under the concept of a Data Laundry.
"With a number of good references, these solutions have proven to work well with companies in the Medical Devises industry."
DataTrim Data Laundry
An automated data standardization and normalization service, which improves your data quality and helps you identifying good and bad records (mail-able, phone-able, email-able).


DataTrim Dupe Alerts
A generic deduplication solution to deduplicate existing data, as well as data being imported, added by users or entered through web-site registration forms.
Learn more


DataTrim Entry Check
A solution dedicated to prevent users from creating duplicates in salesforce and an effective way of performing advanced search for accounts, clinics, hospitals, contacts, doctors, physicians etc.
Learn more


Account Organizer
A must have solution for those who sells into organizations with group hierarchies, to easily view the structure of an organization, linking records together, change of ownership etc.
Learn more