Spring 2016
New Features and Functions:
-Console Updated to Lightning Design, more interactivity and direct click-through to Matched Records
-Dupe Alerts Results, incl analytics, and direct click-through to Matched Records
-Quick Merge improved to also include an end-user oriented Review process.
-Improved Initialization and first time setup process
Console: Interactive and click through to Matched Records
The Dupe Alerts Console has been improved with Lightning Design and interactivity, allowing you to jump directly to the Matched Records, from an Alert or an Alert Result.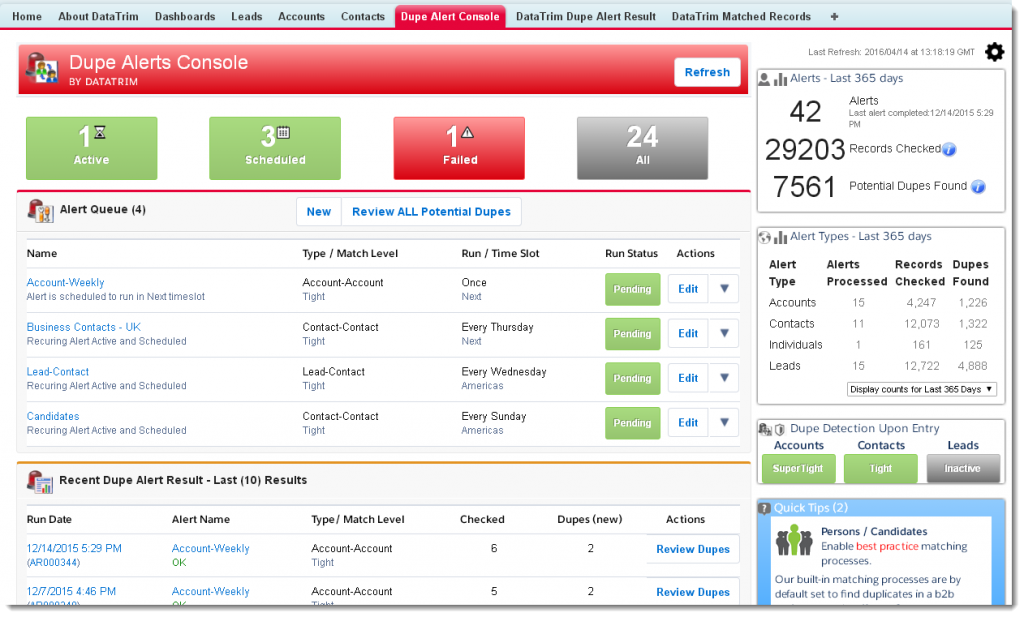 Dupe Alerts Results, updated View Page
The Dupe Alerts Result has now finally stepped out of the shadow as being "boring" log data. The result of a matching process is now presented in an intuitive way with key information and direct – one-click – access to reviewing the potential duplicates.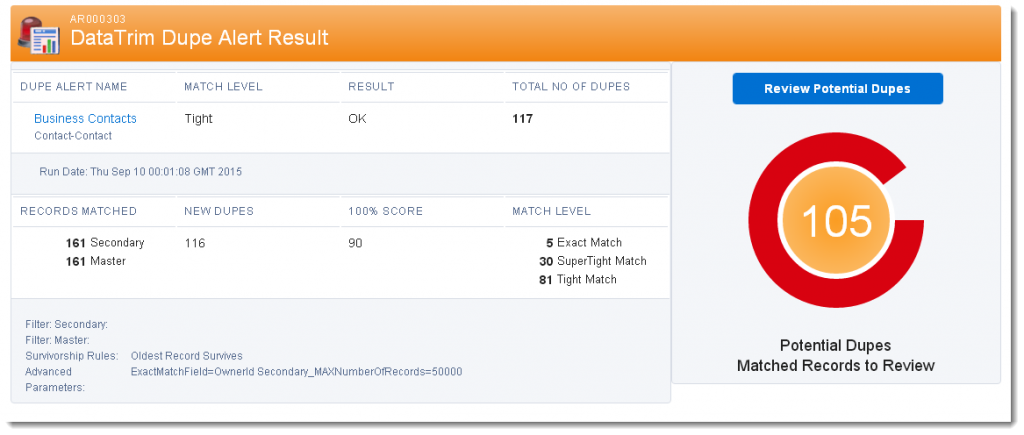 Review Wizard and Quick Merge Redesigned
The Review Wizard, allowing you to effectively go through a list of potential duplicates and take action while reviewing all the details carefully, has been redesigned to meet the Lightning Design standards, but also to simplify the process of reviewing, merging, linking or classifying as False Dupes
The Quick Merge and Convert Wizard has been improved for ease of use, and as displayed below, we now incorporate a User Feedback process, which enables even more collaborative processes.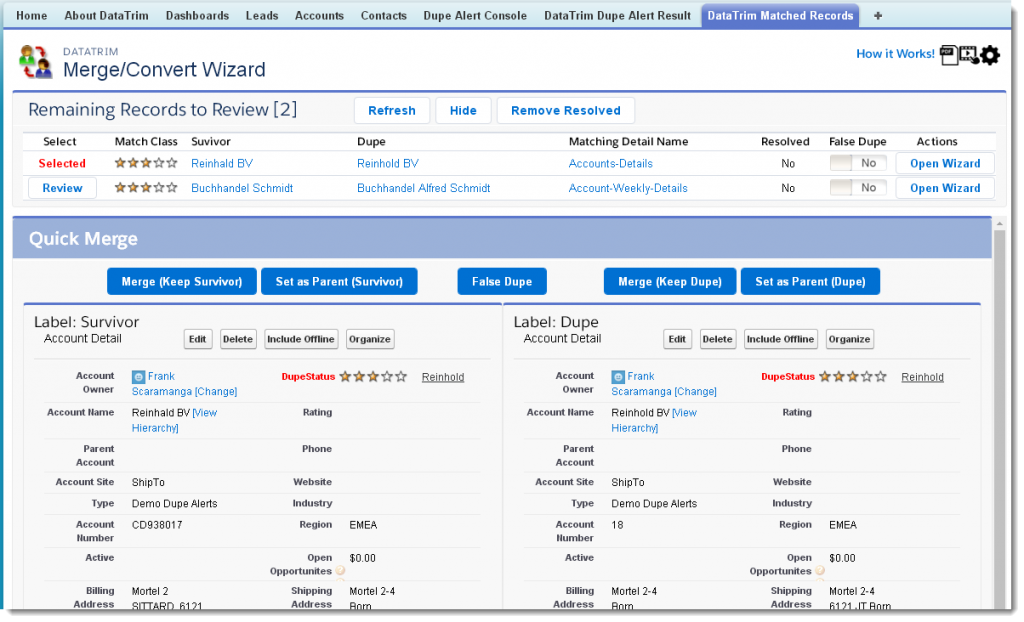 Support for End-User Review process
Involve your end users in reviewing and validating dupes, without necessary given them the possibility to Merge (Update and Delete). With the Review Wizard in Review mode, the end users can now review their potential dupes, give feedback, and participate in cleaning up your database and improving the quality of the database. Taking ownership of their data, the quality and making the end-users more engaged.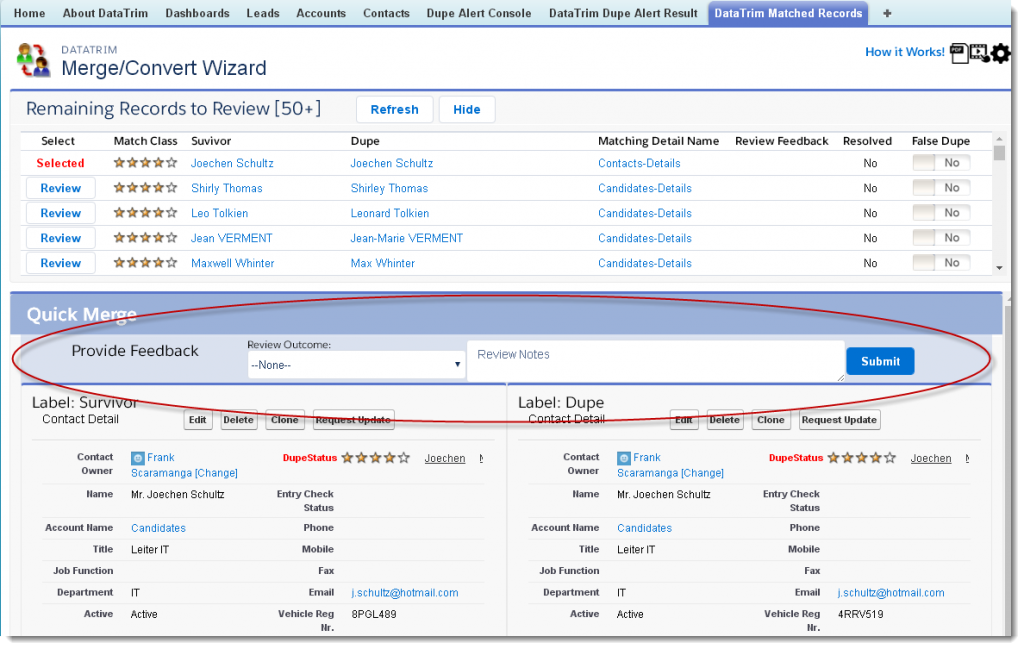 Improved Initialization and first time setup process
First Impression counts, and so we have also improved teh setup and initialization wizard, so that you can get to the insterestign part without having to go through a difficult setup process.


New to this release is though the addition of a Remote Site for enabling our App to create List Views on the Matched Records tab on the fly.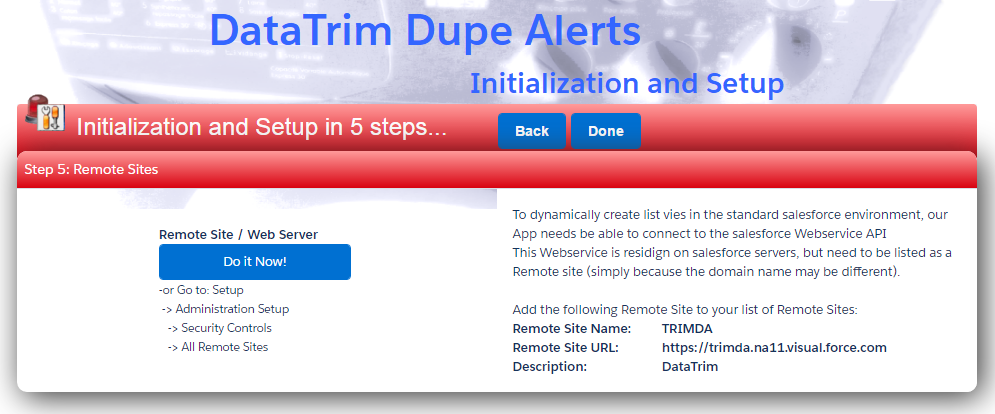 New Release – DataTrim Dupe Alerts
General availability: Spring 2016, a new version of DataTrim Dupe Alerts.
Take the advantage of upgrading your existing version and benefit from the new features and bug fixes in this version.
Get Started
Learn more about Dupe Alerts
Contact Us for more information about this solution