DataTrim Entry Check Extras: Features you might not have discovered yet
DataTrim Entry Check is a simple to use app. It helps preventing users from entering duplicates, but there is more under the hood.
Check out some of the hidden gems in this article, and get more out of your application staring today.
Quick Entry Check on your Home Page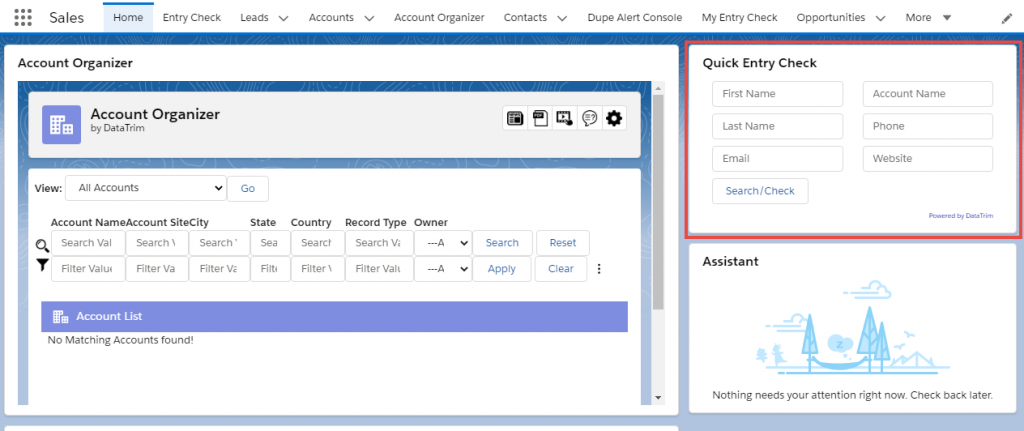 Navigating to the Entry Check page manually, or by overriding the New buttons and thereby forcing users to the Entry Check page when they create new records, are the default processes.
In the App we also include a Quick Entry Check component. A component which you can add to other parts of salesforce, e.g. your home page.
By incorporating the Quick Entry Check into your own apps, you make the record creation process more fluent. Less clicks, more intuitive and always available.
Use Entry Check via the Utility Bar
The Utility Bar: Your End User's Best Friend
The utility bar is a specialized type of Lightning page that gives your users quick access to common productivity tools, like Notes and Recent Items. It appears as a fixed footer that users can access to open utilities in docked panels.
The Utility Bar is a perfect place to add your Entry Check component.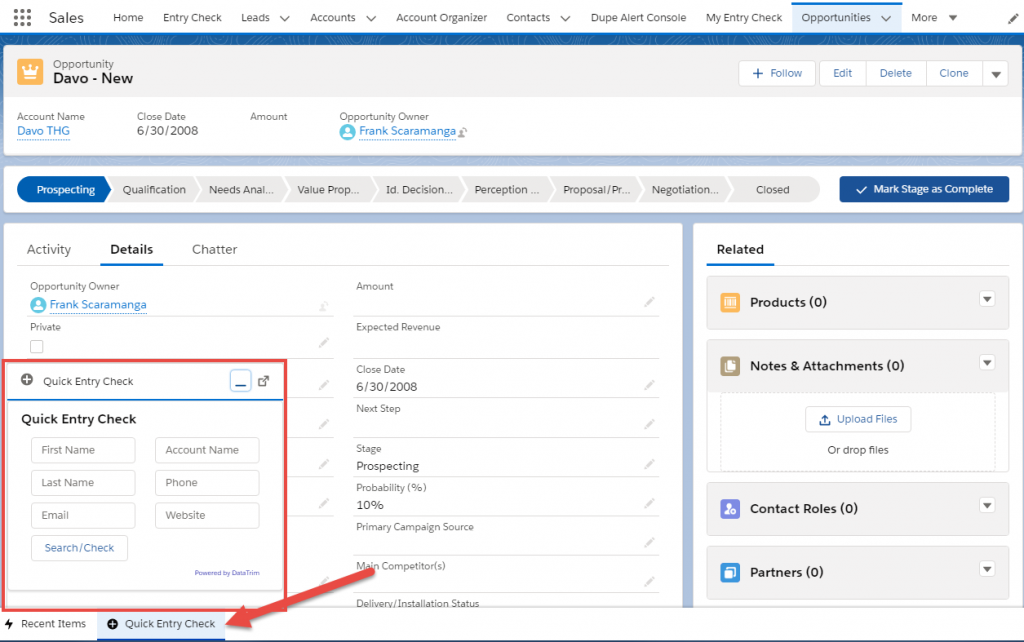 A DataTrim Entry Check Extra which you shouldn't miss out on.
List View Merge buttons

Ever seen 2 or more duplicates in a list view and thinking: How do I merge these?
With the List View Merge buttons, you can select the records to merge and launch the merge Wizard directly from the List View.
Or if you suspect a single record to be a potential duplicate, you can select that one record, click Merge. You will then get an over view of potential dupes (Lead, Account, Contact) and you can take action from this overview page.


Available as List View buttons for Leads, Contacts and Accounts.
Dynamic Dupe Status on the Detail Page

Imagine that you are working on a Lead, and this lead makes a new enquiry, or makes a download on your website. While this action may create a new (duplicate) lead, you are using the original lead. Your original lead is now a potential duplicate of the newly create lead, but how will you know that -when you e.g. are following up on an activity?
With the Dynamic Dupe Status added to the Detail page of your lead (contact and/or account), DataTrim Entry Check performs a duplicate check each time you refresh the screen. The Dynamic Dupe Status will warn you if potential duplicates exist. And with a single click, you can merge/convert, or get an overview of all potential duplicates.
Learn More about DataTrim Entry Check and the Extras
Contact Us
Please do not hesitate to reach out to us, we are happy to discuss your needs, and see how our solution can address YOUR challenges.
DataTrim helps companies and organizations worldwide in improving and maintaining a high level of Data Quality.
The DataTrim Data Laundry improves the reliability completeness and consistency of your data by applying a set of data cleaning treatments which is called The Data Laundry.
DataTrim's Solutions adds experience based data cleaning processes to lead management, marketing automation, customer support and account management processes in salesforce and create valuable impact on the day-to-day usage and productivity in a simple-to-use, collaborative and cost effective way.