Preventing duplicates across sharing permissions
Using salesforce in organization where the permission to records are limited based on organizational silos, Account Management models etc. can present a challenging when searching and when wanting to create new records.  A prospective company in one division could be and existing account in another.  Onstream Media Corp. (a leading online service provider of corporate audio and web communications, including webcasting, webinar, conferencing and virtual event technology.) were looking for a smooth way of handling this, just until they came across DataTrim Entry Check, and they found the solution.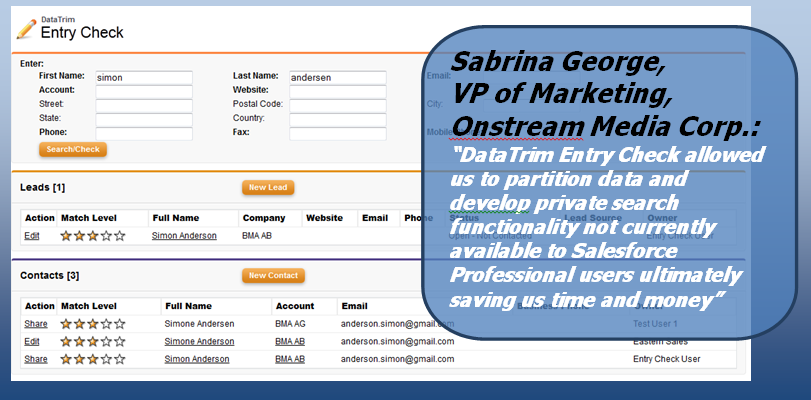 Detecting Duplicates before they are created…..
In any CRM applications duplicates exists. It's like weed; they seem to pop up everywhere. In organizations with multiple data entry points it becomes even harder to catch up, but for user entry and web-to-lead data entry: what if you could detect the duplicate before they are created?
With DataTrim Entry Check this is possible, and it is quite simple.
 "If only the users would search properly before they create a new record we would have fewer duplicates!"
DataTrim Entry Check integrates smoothly into the record creation process and performs the searches that no-one does.
DataTrim Entry Check utilizes best practice search and matching algorithms to identify potentially matching records (accounts, contacts and leads), and presents these in structured lists, with the most likely match on top of the list.
Duplicates in other permission domains
When using the permission settings in salesforce limiting each user or group of users to only have access to a part of the records in the database, the new record could already exist, but in a domain where the user does not have appropriate permissions, and the user will technically create a duplicate.
The more optimal solution is to share the information which already exists, e.g. order history etc. But how to request a sharing of information if the user does not know that it exists?
DataTrim Entry Check – Without Sharing
One of the features of DataTrim Entry Check is to perform the search without the sharing rules – enabling a thorough search across the entire database.
Giving the end user the information that this records already exists, but that he/she does not have access to it for whatever business reason and gives the user the possibility to make a request to get access to the other records instead of creating a duplicate.
This way data can be shared and each user will get a 360° view on the data already in your system.