Working with account hierarchies can sometimes be challenging, which account is the parent, which one is the child, are the duplicates, who is the account owner etc. With Account Organizer you can manage all this in one single view.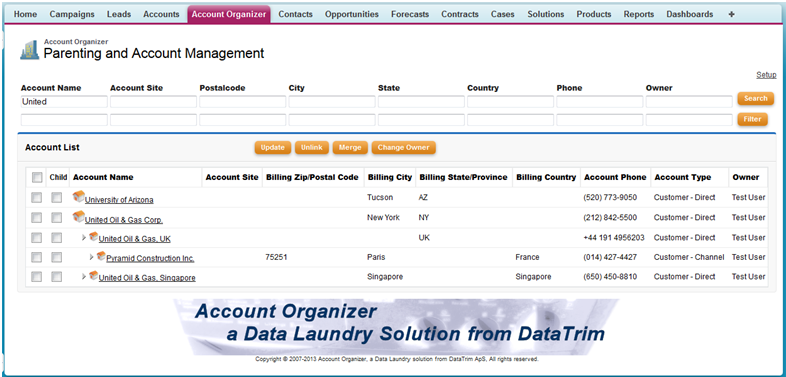 Organize your Accounts
Whether you have a small or a large database the relations between your account records may be important to the way you do business with them. Not only having the possibility to leverage a sale to one entity in an organization to a potential sale is a sister or parent account, but also if you are using the account hierarchies to organize your account sales teams.
In Salesforce you can organize the accounts record by records and get a view of any current account hierarchy, but you have no option to effectively build and maintain this hierarchy.
With Account Organizer this is now possible.
Search & Filter
Using the Organize buttons on the List views or on a particular Account Detail you can view and organize your accounts.
From the search and filter options on the Account Organizer screen you can also create your own personal searches to find e.g. account at the same address, exclude records of certain types etc.
Linking/Unlinking Parents and Childs
Once you have a list of accounts you can link them as parent and childs with a single click, and of cause unlink them
Merge Duplicates
During the work with the account organizer you may also come across records which are true duplicates.
As any of the other DataTrim applications we have integrated the merge wizard into the application to that you easily can merge the duplicates on the fly.
Changing Account Owner
Account Management is also about account ownership. In Salesforce all records are owned by someone, and assignment of ownership is important not only for optimal management of pipelines but also for managing the permissions for each account.
From the list view in the Account Organizer you can change the Owner for multiple accounts at a time.
Customization
The Search and Filter fields as well as the fields presented in the search result are all customizable.
From the setup menu you can choose to display Billing or Shipping address for the account, as well as hiding/showing a range of key fields for the Account records.
Learn more