Deduping your database is not just about setting up rules and merging duplicates; it is also about managing the process, knowing if everything is OK.
With the Dupe Alerts Console, you get an overview of all your deduplication activities in one screen.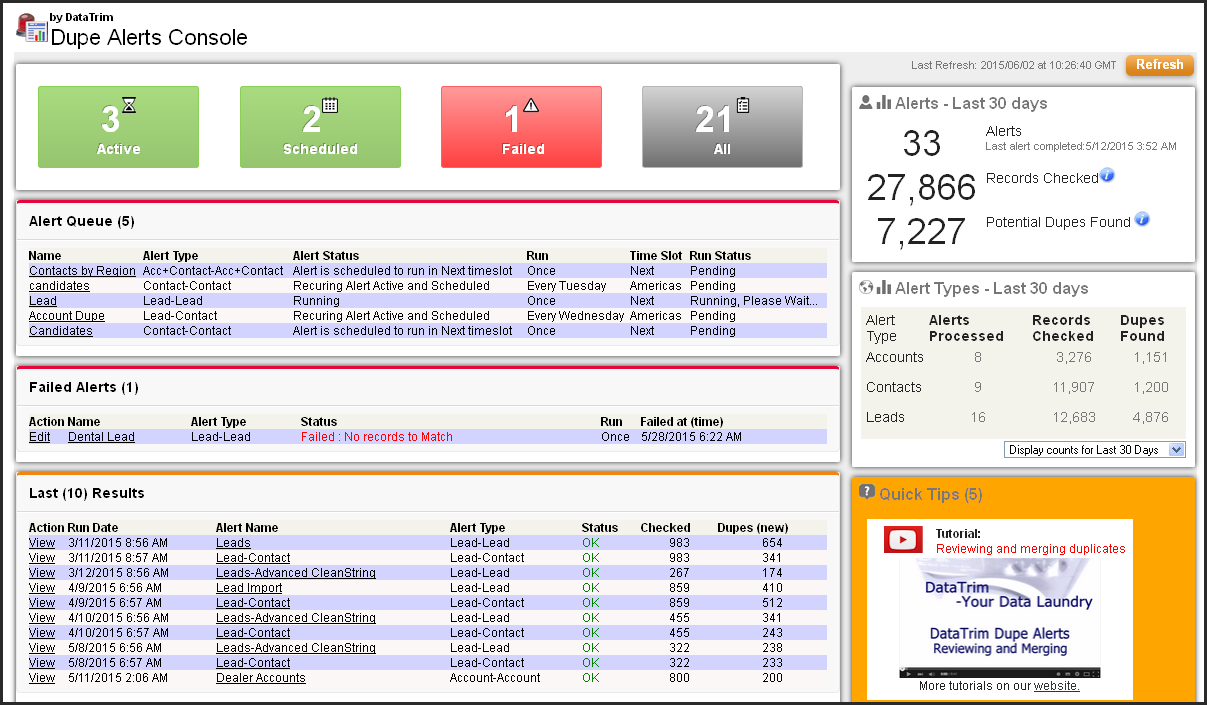 Quick Status:
I 4 simple figures will the console show you how many alerts you currently have active (in the processing queue), how many alert you have in the scheduling queue, if you have any alerts that failed, and the total number of alerts in your setup.
In the detail view you will be able to view all the active alerts, one snapshot shows you which ones are running and when they will be running.
The results of the most recent alerts are listed together with any alerts which failed, giving you the possibility to quickly react, correct and manage your alerts.
Statistics
Ever wondered how many records are checked and how many dupes the alerts are detecting. The sidebar on the right gives you all the key number for you to check how well your alerts are doing.
Total summary as well as per Alert Type is available.
Availability
Available with the May 2015 release (from version 1.54).
Start the Installation (New Installation or Upgrade) directly from out website now!
Get It now!
DataTrim Dupe Alerts
DataTrim Dupe Alerts – is a salesforce app, which is specialized in performing deduplications on small and large databases, new and existing data, containing lead, contact, account, consumer and candidate records.
Watch the introduction videos below, or contact us to learn more about how we can help you.
Learn more about Dupe Alerts
Contact Us for more information about this solution