November 2015
New Features and Functions:
-Updated Classic and Lightning Experience theme
-Dynamic field Lists for search results (Accounts, Contacts and Leads)
-Support for exclusion/suppression of reserved words
-Improved search and match algorithms
-Searches improved for partial searches
Modern classic and Lightning Experience
In this release we have adopted the design guidelines from the Lightning Design System, and Entry Check is now availabe in both Classic (General Available) and Lightning Experience (BETA)
Dynamic field Lists for search results (Accounts, Contacts and Leads)
You no longer any need to create a Custom Entry Check page to define your own fields in the search results.
By leveraging the Field Set feature of salesforce you can now customize the list of fields with a few clicks, and add/remove fields to the display.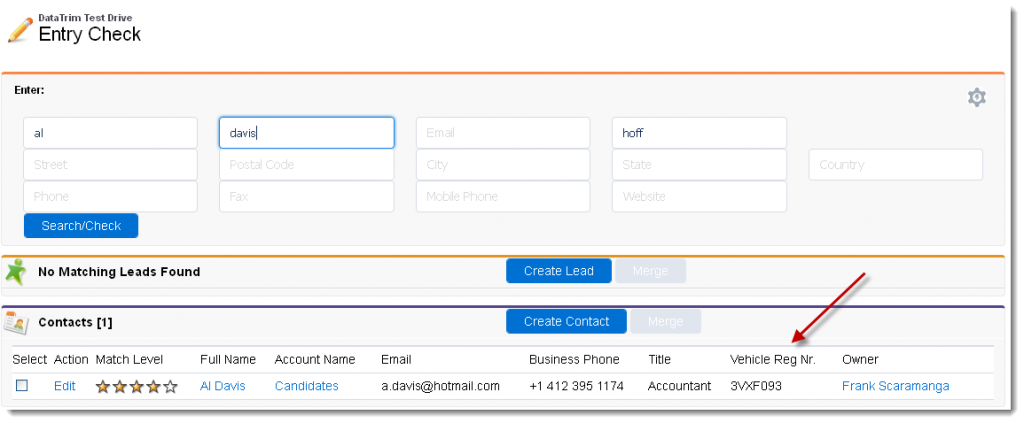 Support for exclusion/suppression of reserved words
We have optimized the search algorithms with a number of improvements for in particular the German and French languages. By working with reserved words our search mechanism can more intelligently find the best matching records. But we recognize that we cannot predict all the various combinations of reserved words across languages and business. This release therefore includes a new option for you to enter common words or values which appears in your database and which may be misleading when you are performing searches


Improved search and match algorithms and searches improved for partial searches
In this release we have made significant improvements with regards to:
-Performance, and the ability to switch off search on the non-indexed MatchKey
-Searching and finding leads, contacts and accounts with non-ascii characters like: æøåüöéç etc.
-Searching and finding leads, contacts and accounts with single field search like phone, or email etc.
New Release – DataTrim Entry Check
General availability: November 2015, a new version of DataTrim Entry Check.
Take the advantage of upgrading your existing version and benefit from the new features and bug fixes in this version.
Get Started
Learn more about Entry Check
Contact Us for more information about this solution