April 2018
A New version is available which will allow you to:
-Get your HQ and Location structures sorted out, finally!!
-Leverage advanced search algorithms, duns numbers etc. to get all accounts from a large organization into a single view, for one-click linking into parent-child relationships.
-Take control over the look and feel, by using the built-it Customization and Filtering capabilities.
-Available in both CLASSIC and LIGHTNING
Inline Account Hierarchy for LIGHTNING
Adding the Inline Account Hierarchy to the Account Detail Page will allow your end users to get a full overview of the organization they are working with.
Easy navigation between accounts in the hierarchy, and ability to manage the structure from the Account Organizer Tab.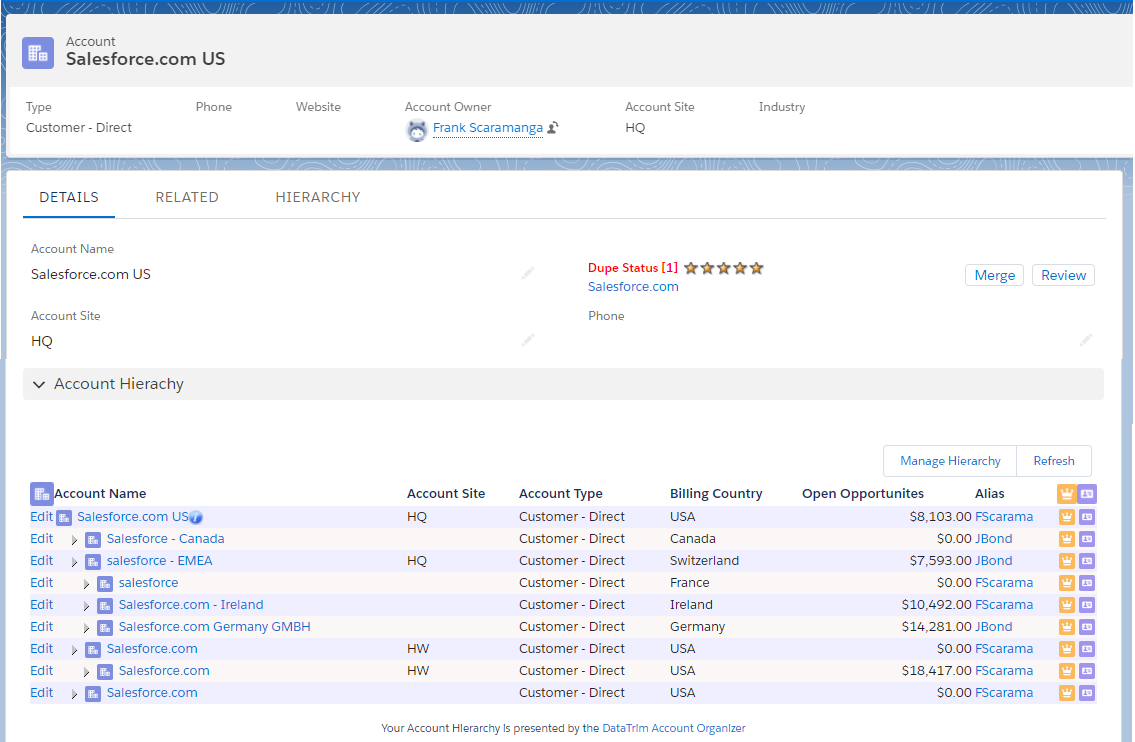 Note: The Opportunity and Contact links to the right, which allows the user to go directly to the accounts/contacts for any given account.
Change the Columns displayed in the Search Results for Inline Account Hierarchy and Account Organizer Main page
With a simple change of the FieldSets you can change the columns being displayed in the Inline Hierarchy on the Account Detail screen and on the Account Organizer Tab.
Leveraging rollup fields on the Account you can even present the Amount of Open Opportunities, the number of contacts, open activities etc.
New Release – DataTrim Account Organizer
General availability: April 2018, a new version of DataTrim Account Organizer.
Take the advantage of upgrading your existing version, its free, and benefit from the new features and bug fixes in this version.
Get Started
Learn more about the Account Organizer
Contact Us for more information about this solution